KAISERSLAUTERN, Germany — It stands over 9 feet tall and can crush almost any fruit or nut in its wooden mouth.
The giant nutcracker built by US Air Force Capt. John Miller may scare the Musketeer, but it's already delighting children at Geilenkirchen Air Base, who used it to crush pumpkins for Halloween.
And on Friday it will be unveiled at the Christmas market in Huecklehoven.
Miller painstakingly created the giant toy soldier in his garage for 14 months while juggling time in his job as an air combat director on NATO's airborne warning and control system.
He presented his craft to Rurich, the village near Huecklehoven where he and his family have lived since January 2020. Huecklehoven will store the nutcracker and display it at holiday festivals for years to come.
"Our neighbors were always great and cordial," Miller said. "We knew right away that we were going to build something for them as a token of our gratitude, but it was a bit difficult to come up with something they could use or cherish."
Miller, 37, learned to work with his hands from his father, who was handy with home repairs.
However, he didn't discover his aptitude and love for woodworking until about eight years ago, when he and his wife were expecting their first child, the first of four boys, two years apart. Miller made a wooden bassinette with hand tools.
"It's a passion that just grew from there," he said.
Since then, he has, among other things, built the hull of a 21-foot boat, a bicycle trailer and a clock.
Along the way, he and his wife started a foundation to financially support families who want to adopt. Its Instagram handle is @makersforadoption.
Miller himself was adopted, and he has donated profits from his projects to families trying to adopt. He has also partnered with other woodworkers to raise funds.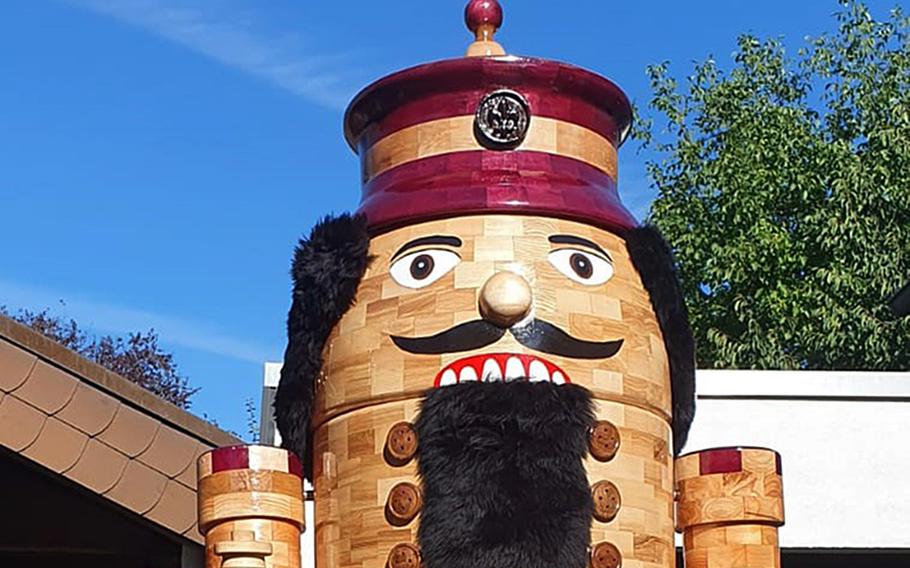 Miller modeled his nutcracker on a used one he bought in the Netherlands. He borrowed some techniques from a woodworker he found on YouTube who built a 6-foot nutcracker. He decided to make his bigger, but he had no blueprint for how it would be constructed.
He knew he didn't want to build a single solid piece.
"It was a lot of time sitting back and having a beer with a friend, trying to figure out how to build this to where you could actually take it apart and put it back together," so it could be easily transported, he said .
Miller ended up laminating 1,600 segments together with nine types of wood—including ash, black walnut, California redwood, maple, and purpleheart—all from Germany.
The different colored wood gives the nutcracker a natural contrast. Only a few pieces were painted.
It is weather resistant, with sheep wool for hair and beard. The body is reinforced with fiberglass and epoxy is applied to the surface.
Friend and fellow woodworker Lt. Col. Kurtis Kuschel, an air combat leader at Geilenkirchen, pitched in on some of the more intricate pieces.
Kuschel used a lathe to turn the hands and decorative balls on the sword, and with a special computer-driven machine, he made the belt buckle, buttons and crown emblem, Miller said.
Between sawing and gluing in Miller's garage there were deployments.
"It was about half-built when everything started in the east," he said, referring to Russia's full-scale invasion of Ukraine in late February. "It was definitely a challenge and very time-compressed."
Miller estimates that 400 hours of work went into the project, much of that time spent waiting for the glue to dry.
The biggest challenge was to give the tall toy soldier a low center of gravity so it wouldn't tip over. The initial result did not seem promising, despite Miller's assurance of the accuracy of his calculations.
"I thought, 'Man, this thing looks like a Nutcracker in skinny jeans,'" he said.
He solved the problem by putting steel plates in the bottom and filling the legs with stones.
His nutcracker passed its first real test when children took turns crushing pumpkins with it at Geilenkirchen's Trunk or Treat earlier this year.
"It only moved maybe 6 inches on the ground," he said. "It's quite powerful."
The project ended up costing in the region of €5,000, about double what Miller estimated, but he is excited to see it finished before his family moves back to the US next month.
The recipients are excited to include the Nutcracker in their holiday festivities as a symbol of the partnership with the Americans in and around Geilenkirchen, said Holger Logen, spokesman for the Hueckelhoven mayor's office.
"It's a perfect fit for our Christmas Market and our Autumn Lights Festival, where it will be featured for six weeks," he said.
The progress of the construction of the nutcracker is shown in videos on Miller's Instagram page at https://www.instagram.com/dfswoodworksllc/.